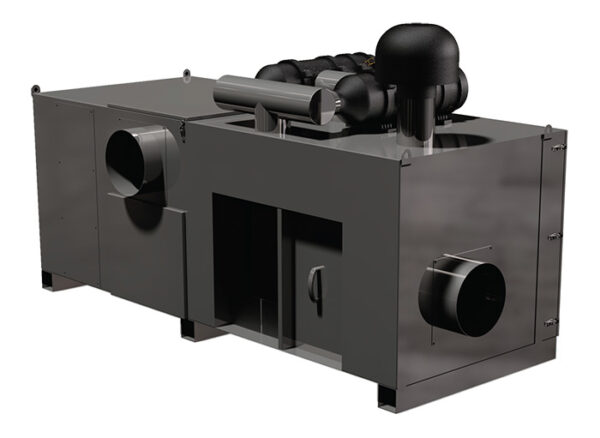 P-8500 Ultra Air
Designed for Mobile Emergency Field Hospitals/Military Command Centers, Temporary Buildings, Tents — Anywhere you need clean, purified, conditioned air!
The P-8500 System circulates & processes the interior Air of a structure while adding filtered conditioned Ambient Air to pressurize the enclosure above atmosphere (leakage depending) to keep particulate out!
With safety in mind, the P-8500 features an Emergency Containment System "ECS" that can be activated during a possible release of contamination inside an enclosure. In this situation the P-8500 shuts down the main Blower and reverses the fresh air system.
Air is then discharged from the enclosure through Hepa 99.97% @ < 0.5 Microns Filtration to bring the enclosure into a less then Atmospheric Pressure.
Description
Manuals & Documents
Description
Features
Modular Unit in 304 Stainless steel Housing
Skid Mount Movable by Forklift / Crane
200-480 Vac 3 Ph 50/60Hz with Soft Start Technology
Polar Digital Thermostat Controller
Heating Electric: 55,000 Btu's (16 kW)
Cooling 6 Tons 72,000 Btu's (21Kw) @ 75F/24C (WB)
Air Conditioning Copper/Copper Anti-Microbial Resistant Coils
Radial EC- PWM Process Air Fan 0 – 2600 CFM (4400 M³/h)
Brushless PWM Condenser Fans with TimedReverse Air to Clean Coil
Four Stage Air Purification:

Sy-Klone Series 9000 Ejective Makeup Air Intake with CF2 Hepa Filtration
Merv-8 Re-Circulation Pre-Cleaner Filter
Hepa Filter 99.97% @ < 0.3 Microns
Ultra Violet Air Sterilization UVC 254nm /UVV 185n

Remote Interior Panel – Pressure Indicators & ECS Switch• Stainless 12" (305mm) Duct Interface Panel