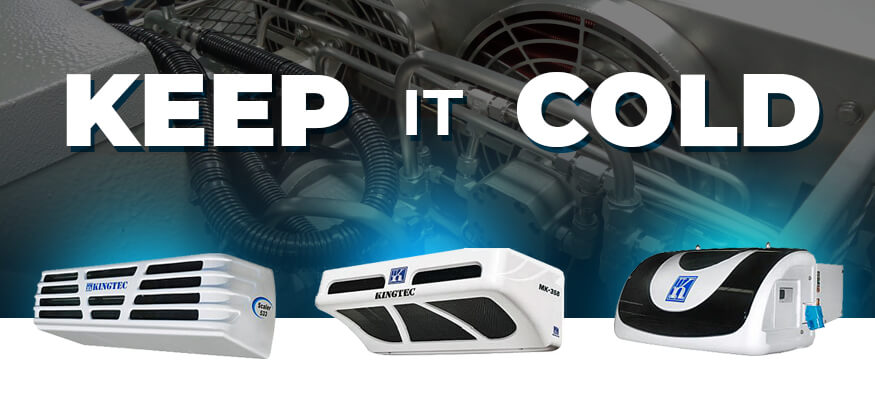 Industry experts have estimated that nearly one-third of perishable goods never reach their destination because of inconsistent cooling.
What is the solution? Polar Mobility's Transport Refrigeration Systems!
Get on board with transport refrigeration solutions so that your business does not spoil. Supplies like food, flowers and other perishables need to be transported in a unit with controlled temperatures. Get your products to their destination, fresh and ready for the market.
Do you have a produce delivery truck, need to deliver blood to a medical facility or just need to get food delivered to your camp up North?
Transport refrigeration solutions are provided for a wide array of vehicles from small trucks and vans to long haul vehicles and trailers. With the demand for transportation refrigeration vehicles on the rise, you need a unit that will help you keep your cool. Polar Mobility has diesel driven and vehicle engine driven units available to suit your needs.
Are you worried about the extreme temperatures you have to deal with on the road?
Perhaps your final location is somewhere in the Arctic and it is a -50-degree day or it's the height of Summer in a heat wave. You don't want to get out of the truck, let alone find spoiled food in the back. With transport refrigeration solutions from Polar Mobility, you don't have to worry. Your mobile refrigeration unit will maintain your perishable cargo at a precise and consistent temperature. Avoid delivering a truckload of salmonella with Polar Mobility's transportation refrigeration units. Stay away from health and safety board concerns by keeping your payload from exposure to the outside elements.
Refrigeration units remove heat from inside the fridge compartment so the products can remain at the temperatures needed when they leave the supplier.
How does a transport refrigeration unit work?
There are 3 components to a transport refrigeration unit.
The evaporator – this portion has tubes containing cold liquid refrigerant that absorbs heat from the air, turning the refrigerant (the substance used in the refrigeration cycle) from liquid to low-pressure gas. The gas and absorbed heat are pumped away from the evaporator.
Compressor – Pumps the refrigerant into a high-pressure gas.
Condenser – Outside air blows through the condenser, removing heat from the refrigerant gas and turns it back to liquid so it can go around the circuit again.